We offer Simple and Easy-To-Use Defibrillators (AED) for your workplace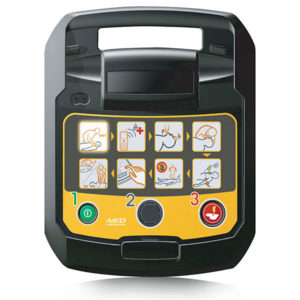 Onsite First Aid recommends and sells HeartOn Defibrillators. HeartOn is a cost effective AED well suited many workplace environments.
We are very competitive with our pricing and have many years experience in selling defibrillators. Contact us to discuss your requirements.
Features include:
Supports Icons and voice prompts to instruct user performing CPR
Self-test performed daily, weekly and monthly basis for device battery, and power supply status. The self test program runs automatically
The HeartOn AED A10 includes a status indicator. With this indicator, user can check battery and unit status without turning on the device
After analyzing ECG, flashing shock button LED indicated clearly readiness for shock delivery
Using SD card, customer can check ECG Status from PC or upgrade the unit
Technical specifications
Defibrilation
Waveform: Biphasicshot, Energy: 45-200J, Charging Time max 13 sec, Operating mode: Semi-Auto
ECG
lead: 2, VF/VT detection, Analysis time: 8~12mm/s
Indication
LCD, Icon, Status LCD, Voice prompt, Text, CPR indication
Data backup & communication
SD card, IrDA, LAN (option)
Battery
Type: LiMn02, Storage: 4 years,Discharge: Min 200, Monitoring: Min 10hrs
Regulatory
AAMI DF80, IEC 60601-1-2, IEC 60601-1-4, IEC 60601-2-4, 2005 AHA guideline
Self test
Every 24hr, 1 week, 1 month, Poweron selftest, Testresult status LCD
PADS
Adult pad: 1 disposable pad (standard Acc)-Storage: 2 years or
Pediatric Pad: 1 disposable pad (standard Acc)-Storage: 2 years
List of Components
A10, Adult pad, Soft Bag, Opreational Manual
Dimensions
314x259x109 (mm, HxWxD), Weight with battery: Approx.2.95kg